4 Comments
Thursday, 5 April 2012 |
Paul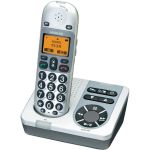 If you or someone you know is deaf or hard of hearing, telephone conversations can become incredibly difficult and frustrating for all people involved. Simple tasks like booking appointments, arranging to meet friends and paying bills are often impossible and can turn into major issues where there is a fear of answering the phone or making phone calls. Loud phones and extra loud phones have been specifically designed for people who are hard of hearing or deaf. We will look at how the phones work and the different types of phones that are available.
Tuesday, 30 November 2010 | Paul
An amplified telephone for a hard of hearing friend or relative can provide a much needed lifeline, particularly during the cold and dark winter months. An amplified telephone amplifies the volume in the handset of the telephone up to 8 times louder than a standard phone making it much easier for the listener to hear the conversation. The Hard of Hearing range from Health and Care includes corded amplified telephones, cordless amplified telephones and hard of hearing telephone with answering machine.
Tuesday, 16 June 2009 | Paul
Saturday, 6 June 2009 | Paul
The PowerTel M5000 is an extra loud mobile phone with a large button keypad and large display, making it the ideal mobile phone for people with hearing difficulties and hearing impairments.
Friday, 5 June 2009 | Paul
We all know someone who could benefit from an extra loud phone in their home. The telephone is a lifeline for a lot of people and at times a telephone conversation is the only conversation that person may have in a day.
Friday, 5 June 2009 | Paul
Hearing impairment or deafness is when your hearing is affected by a disease, disorder, or injury. Different levels of hearing impairment are defined by the quietest sound heard. This is measured in decibels. This articles helps to explain the different types of hearing loss