Amplified telephones for the deaf and the hard of hearing
Monday, 10 September 2012 | Paul
Key product: Geemarc Amplipower 50 Amplified Telephone
Health and Care are proud to offer one of the largest ranges of amplified telephones for the hard of hearing and deaf. Amplified telephones are specially designed phones with amplified receiver and ringing volumes, making these phones much louder than an average telephone. We only retail quality brands of extra loud telephones including Geemarc hard of hearing phones; Amplicom amplified telephones and Doro hard of hearing telephones. Our amplified telephones come with a range of features including answering machines, Caller ID and memory call buttons making them ideal for elderly as well as the hard of hearing.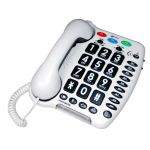 The loudest phone in the world - The Geemarc Amplipower 50 Amplified Telephone
Extra loud phones, known as amplified telephones, all come with an amplified receiver volume. For those who are hard of hearing it is generally the conversation at the other end of the phone that is the most difficult to hear. Not being able to hear a telephone conversation is not only frustrating, it can lead to isolation and a fear of answering the phone. A simple increase in the receiver volume of a telephone can radically improve a person's relationship with friends and relatives and help build confidence. The Amplicom PowerTel 49 Plus Amplified telephone comes with an adjustable receiver volume so the user can increase the conversation volume to their desired level.
For those who are profoundly deaf, the Geemarc Amplipower 50 Amplified Phone is the loudest phone available on the market and reaches a staggering 60dB in the receiver. This extremely loud receiver volume is between 6 and 7 times louder than a standard telephone and is only advised for those with severe hearing loss. However, the receiver volume is adjustable in the Geemarc Amplipower 50 Amplified Telephone which means that it can be decreased for those who are not deaf or hard of hearing. Along with having the loudest receiver volume available, the Geemarc Amplipower 50 hard of hearing telephone also comes with large, clear buttons making it ideal for the elderly.
The Geemarc Photophone is an ideal phone for sufferers of dementia and for the visually impaired. The Geemarc Photophone uses large buttons with images of friends and family that are pre-programmed with their telephone numbers. To make a call, the user simply presses the photo of the person they wish to call. Amplified mobile phones are great for those who wish to have the freedom and security of a mobile phone but struggle to hear conversations using a normal mobile phone. Conversations using mobile phones in particular can be difficult to hear due to reception problems and background noise and this can put off those who are hard of hearing. The Amplicomms PowerTel M7000 is an amplified mobile phone which offers clarity of sound and an extra loud receiver volume of 40dB. The Amplicom M7000 loud mobile phone includes a talking keypad and caller ID making it one of the most popular amplified mobile telephones for the hard of hearing.
Many people are used to using cordless telephones around the house and luckily there are some excellent amplified cordless telephones for those who are deaf or hard of hearing. The Amplicom BigTel 200 cordless amplified telephone comes in a sleek silver design and offers excellent value for money. The receiver volume in the Amplicom BigTel 200 telephone is 3 to 4 times louder than a normal phone while the ringing volume is a super loud 80dB, great for those who struggle to hear the phone ringing and an essential for a cordless telephone. If you require more than one phone in the house, the Amplicom PowerTel 702 cordless amplified telephone is great value twin-pack with two cordless handsets. The receiver volume of the Amplicom PowerTel 702 is 4 to 5 times louder than a standard telephone and it comes with large, clear buttons making it the ideal for those who are not only hard of hearing but also struggle to use small buttons on phones.