Aircast A60 Size Chart
Tuesday, 8 January 2019 | Eugene
When it comes to choosing an ankle support for sports, there are some that rise head and shoulders above the competition. The ideal sports ankle brace will prevent rollover, provide multi-directional support, and crucially, be slim and comfortable enough to fit into sporting footwear without hurting fit or performance. With these requirements in mind, there's one ankle brace that beats the rest: the Aircast A60 Ankle Brace.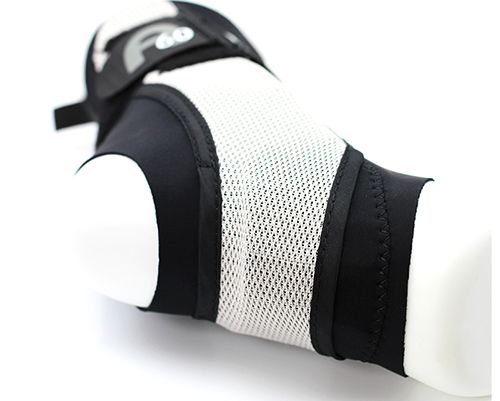 The A60 features a slim design that contours to your foot to fit sporting footwear
Sizing Your Aircast A60
Since one of the Aircast A60's main benefits is its contoured and slim fit, ensuring you get the right size for you is crucial. With a snug and proper fit, your A60 will fit easily into your football boots, rugby boots, running shoes and all sport-specific footwear, allowing you to recover from ankle injury without disrupting your performance.
Which Size of Aircast A60 Ankle Brace Do I Need?
The Aircast A60 Ankle Brace is available in three sizes for either the left or right foot. Using the sizing chart below, match your shoe size to the appropriate size of Aircast A60.
| Size | Men's UK Shoe Size | Women's UK Shoe Size | European Size |
| --- | --- | --- | --- |
| Small | Size 6.5 and below | Size 6 and below | Up to size 40 |
| Medium | Size 7 - 11 | Size 6.5 - 10.5 | Size 40.5 - 45 |
| Large | Size 11+ | Size 11+ | Size 46+ |
What If I Fall Between Sizes?
If you fall between sizes, either size should provide appropriate support, and you should make your decision based on how you would like to use your brace. If you're using your the A60 strictly for sports and athletic activity, we would recommend the smaller size for a snug and slim fit. If you're using the A60 for more casual everyday use, the larger size may be better for long-wearing comfort.
What If My Ankle Is Swollen?
If you're looking for an ankle support, it's likely that your ankle is injured and possibly swollen. If your ankle is swollen and your shoe size falls close to a sizing boundary, we would recommend the larger size to ensure proper support without the restriction of circulation.
The Best Fit for the Best Performance
The Aircast A60 Ankle Brace has proven itself as a top ankle brace for all levels of athlete, which is why it's the choice of top athletes like Andy Murray. Properly fitted, the Aircast A60 is the best and most comfortable option for support without hurting performance and comfort. Get your Aircast A60 Ankle Brace today with FREE UK delivery from Health and Care!
Do you have any questions about the Aircast A60, or one of our other products for rehabilitation of ankle injuries? Please don't hesitate to let us know in the comments, or find us on Facebook and Twitter.
Tags: Aircast A60 Ankle Brace, Ankle Supports, Football, Product Focus, Sports Supports and Braces