The Aircast A60 Ankle Brace: Lightweight, Low-Bulk Protection
Thursday, 14 September 2017 |
Eugene
Anyone who has suffered from an ankle injury knows just how debilitating it can be. Whether you're an athlete, or just someone who needs to get around, nobody can afford to lose the use of their ankles. That's why, once you finally begin to recover, having a brace that works with you, and your lifestyle, is a must.
The Aircast A60 Ankle Brace was designed with this in mind, and was made to combine protection with wearability and comfort like never before. It allows you to move, and go about your day, while both helping your ankles recovery and preventing it from further injury. It's no wonder, then, that this has become the only choice of Andy Murray. Little else need be said, since if it's good enough for his high-energy, high-dexterity movement on the court, there probably isn't much it won't stand up to.
It isn't only the likes of Andy Murray who've decided the Aircast A60 is the only brace for them. Countless athletes at the top of their game choose the brace, including golfing superstar Rory McILroy. For convenience, we've laid out some of the key ways in which the A60 dominates the competition.
1 - Reliable Rollover Protection
The number one thing when it comes to choosing an ankle support is just that: support. In this respect, it won't let you down. In fact, the Aircast A60 covers every aspect, boasting a carefully designed 60° stabiliser that is meant to allow your ankle to move enough to perform in your sports, without letting it get to the level of a dangerous strain.
If you're worried about ankle protection, you've no doubt felt that moment where your ankle rolls over and you fear the worst. The A60 has been designed so that athletes can perform without this fear, helping you twist and turn with your ankles supported.

2 - Lightweight and Bulk-Free
We can talk protection all day, but most athletes want something that will feel great, without getting in the way. This is where the Aircast A60 really rises head and shoulders above the competition, as it's made to fit comfortably into any sporting footwear, without causing any discomfort or extra bulk. Just as importantly, since it's made with patented Breath-O-Prene fabric, you'll stay cool, dry, and comfortable as your match heats up.
If you're playing football, your first touch won't suffer, as your boots and ankles will feel and look just as you remembered them. If you're on the tennis or basketball court, quick turning and twisting motions will feel just as they did before, as your shoes will have them same give and the same bounce as always. On the golf course, the intricate twisting motions of your feet will remain true, without the feel of the grass changing beneath your feet. From an athlete's perspective, these features make the A60 Ankle Brace truly stand out.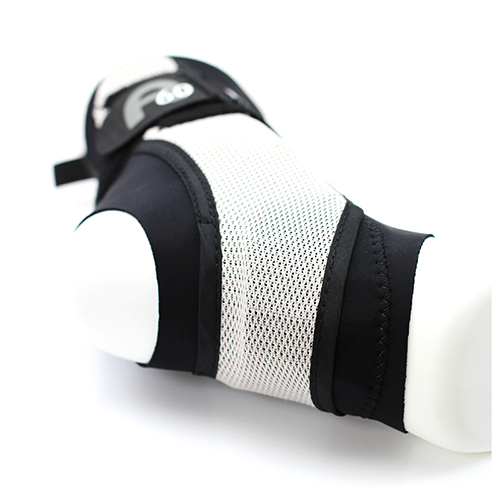 Close-fitting underfoot strap of the Aircast A60
3 - Practical and Quick Application
If you've ever watched your teammates warm up while you fiddle with a tricky taping pattern, or a multitude of straps, you know why this part matters. The Aircast is available in three different shoe sizes, making selection simple, and includes only one strap!
While most braces that claim the support of the A60 require multiple straps, the Aircast accomplishes this feat with only one. This is because the A60's strap begins at the stays that support either side of the ankle, and wraps under the arch of the foot for truly anchored protection. What other supports require an instruction booklet and a tangle of straps to do, the Aircast does with only one, meaning no hassle, and more time on the field.
Want One for Yourself?
If you're still reading, you no doubt want to get your hands, and ankles, on an Aircast A60 yourself. This world-renowned support is available here at Health and Care, with FREE UK delivery. To take advantage of this deal, take a look at our Aircast A60 Ankle Brace page.
Have some questions, or something to add? Tell us about it in the comments section below, or get in touch on Facebook and Twitter!