A Good Night's Sleep From HealthandCare.co.uk
Saturday, 5 April 2014 | Amy
A good night's sleep is important for everyone, but finding the right level of support and comfort at night is not always easy to find. Having a regular bedtime, not eating right before you go to sleep and making sure your room is at a comfortable temperature, are all ways to help aid a good night's sleep. Sometimes these tricks however just aren't enough, and you find that you need more than just a good night time routine, in order to wake up feeling fresh the next day.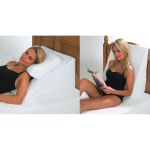 Cushion supports and lumbar rolls are a great way of providing support, and are able to be adjusted to different needs. Whether you are striving for a good night sleep, or would just like to make relaxation time more comfortable, additional support can add comfort and relief for many people.
Here are 3 of our top bed supports for use at night or day time relaxation:
Harley Bed Relaxer Bed Wedge Support Cushion
The Harley Bed Relaxer Bed Wedge Support Cushion can be used for sitting upright, or sleeping in a slightly raised position. The Harley Bed Relaxer for night time use is useful for those who find lying flat uncomfortable and can be placed under a pillow. It is also beneficial for people who suffer with respiratory conditions or hernia hiatus for example. In the upright position, the Harley Bed Relaxer offer support and comfort when sitting in bed.
The Original McKenzie Night Lumbar Roll
The Original McKenzie Night Lumbar Roll is designed by World renowned physiotherapist and author Robin McKenzie. This Lumbar Roll was created to provide relief from back, or neck pain caused by poor posture and can be used to support your lower back when sleeping on your side or back.
Harley Batwing Pillows are ideally shaped to snugly hold you when sitting upright in bed, or your favourite chair. The pillow gently supports your back and side sections to give your body fantastic lateral support. The Harley Batwing Pillow is ideal for those who need extra support when sitting, or are unable to sleep lying flat.