​66 Fit: Survival of the Fittest
Thursday, 6 August 2015 | Paul
Everyday living can feel more like a battle of survival when you have injury to contend with. 66Fit not only understands the trials of living with an injury, they know precisely how to help you recover, which is just what we love to hear at Health and Care. Rehabilitation, physiotherapy, sports therapy – they can all seem like scary words to weakened limbs (or to the average wallet) but don't worry, this innovative, affordable brand is here to save the day!
Beyond Physio
Started in 1999, the company has grown and evolved along with the treatment it offers. Originally trading under the name of Physio Supplies, they first provided sports therapy and rehabilitation supplies to both the public and professionals at affordable prices. Since then the brains behind the brand have kept a keen eye to the future, leading to the renaming of the company in 2010. This extremely successful rebranding and expansion of products allows us to offer you a new, modern range of equipment to help you meet your fitness goals, whether pushing through injury or keeping yourself in peak condition.

"Fitness is All or Nothing"
A good motto for anyone to follow, in the company's own words "we're made for people who measure themselves against their own expectations and then exceed them." This brand is not simply a range of products but a state of mind, and your mind will be fully set on total health once you try out their amazing line of comfort, recovery and fitness equipment. A Yoga Mat to keep body and mind in great shape, a Suspension Trainer to give your body a full work out, a Cold Compression Cuff for bodies worked too hard, whatever your routine throws your way – unwanted injury included – you're covered thanks to this brand being as fully committed to your health and recovery as you are.
Looking Good, Feeling Better
Physiotherapy is a word that paints a similar picture in everyone's mind; a bleak, grey room, an emphasis on the fact that you are at less than your best, a pressing demand to push your injured body in a way it does not wish to be pushed, and a distinct lack of fun. Thank goodness for this range of sharply designed, highly effective and fun products that will get your back on your feet in no time. From the perfectly portable Leg Exerciser to the Spine-supporting Cushion that even little backs can enjoy, your recovery is more than a weekly session of impersonal treatment, it's a daily journey back to fitness, and this company knows it.
Rock 'n' Roll Recovery
Keep on rollin' with Rumble Roller massagers, or try the Beasties, fearsome beasts for any niggling pain or injury you may be suffering. They may not be the prettiest, but we're willing to bet they'll be some of the most effective massagers you'll ever use. Designed to give maximum penetration of the muscle, total control over your self-managed massage and a variety of ways to utilize this at-home rehabilitation tool, you can say roll on to good health.
Visit Health and Care for our full range of 66Fit Products.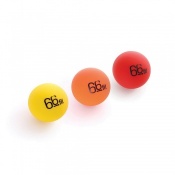 Acupressure massage to release pressure
Yellow Ball: 6cm - Low Density
Orange Ball: 6cm - Medium Density
Red Ball: 6cm - High Density
---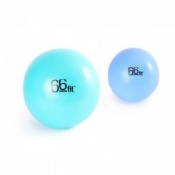 Anti-slip surface for excellent grip
1 x 25cm (Turquoise) and 1 x 20cm (Blue)
Ideal for pelvic floor exercises
Develops strength and endurance