5 Reasons You Need Zullaz Orthotic Slippers
Thursday, 9 September 2021 | Tenzin
Most of us have experienced foot pain at one time or another, but for some people it can be caused by long-lasting conditions that affect their daily lives. Whether your job or lifestyle requires you standing for long periods of time, you're a keen sportsperson, or you suffer in the name of fashion in vertiginous heels, your feet deserve a rest when they're at home.
Here are five reasons why you need a pair of Zullaz Orthotic Slippers in your life:
Podiatrist designed with expert care and knowledge
Features FootActive Biomechanical arch support
Provides superior shock absorption
Environmentally friendly outsole and felt uppers
Helps combat a variety of foot and non-foot-related conditions
Podiatrist Designed with Expert Care and Knowledge
You most likely already own a pair of slippers to change into when you kick off your outdoor shoes, but chances are they won't offer many benefits. Sure, they might protect your feet from cold flooring or provide some cushioning, but that's about it in most cases.
However, the Zullaz range of unisex orthotic slippers are specially designed by podiatrists who understand exactly what's needed by people who want comfort, support and stability. With their extensive experience in orthopaedic technologies, they've created a range of slippers in a contemporary design to suit both men and women.
Features FootActive Biomechanical Arch Support
Foot pain isn't normal, you experience it when there's an abnormality in your foot. As your feet are the foundation of your body bearing your whole weight, it is essential to address any issues and have sufficient support for them otherwise it can affect you elsewhere in your body.
That's why the FootActive biomechanical arch support found in Zullaz slippers can protect your arches and other parts of the foot that are not properly aligned. This can often lead to better posture and provide stability when walking.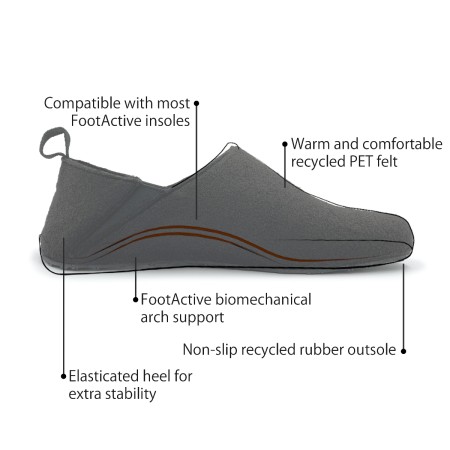 Provides Superior Shock Absorption
If you suffer from any sort of foot pain, even walking around the house or standing while doing simple chores can take their toll on the joints and muscles, just as much as they do when you're outdoors.
You might not be able to change your lifestyle dramatically to reduce the daily impact on your feet but the shock-absorbing component in the Zullaz slippers will help. They work by evenly distributing the pressure into the arches rather than leave it all in the heels and balls of the foot.
The Zullaz Orthotic Slippers are available in classy black, versatile grey or vibrant blue, in sizes UK size 3 (EU 36) to UK 11 (EU 11).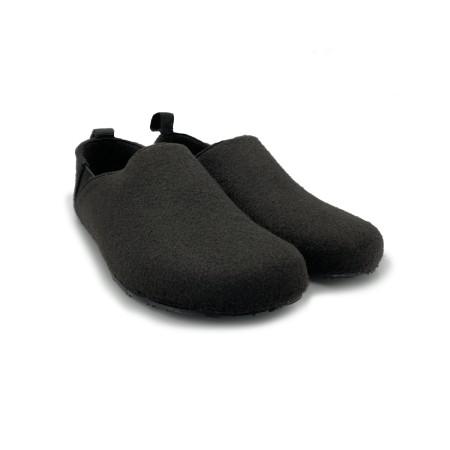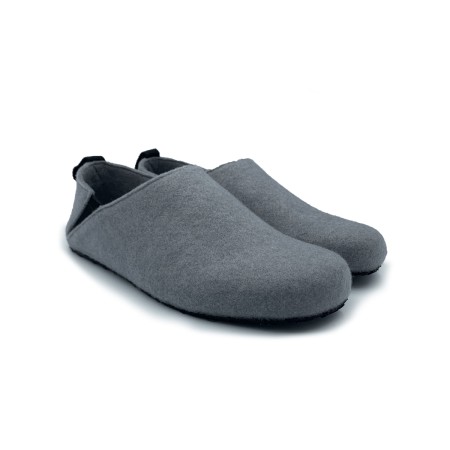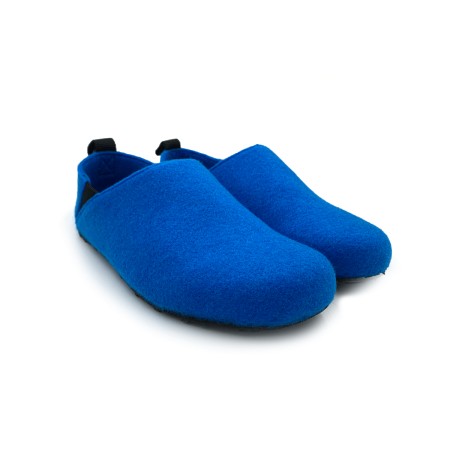 Environmentally Friendly Outsole and Felt Uppers
Support your feet and support our planet at the same time! Yes, that's right, not only will the Zullaz slippers provide you with comfort and stability to alleviate foot pain, they are sustainably produced.
The felt upper part feels like wool but is actually entirely made from Eurelly/PETT which is recycled plastic. In fact, it takes about 8 plastic bottles to make one pair of slippers so this is one purchase both you and your feet will definitely love.
Also, the non-slip outsoles are made from recycled rubber to provide added grip so you can keep your slippers on even if you need to pop outside.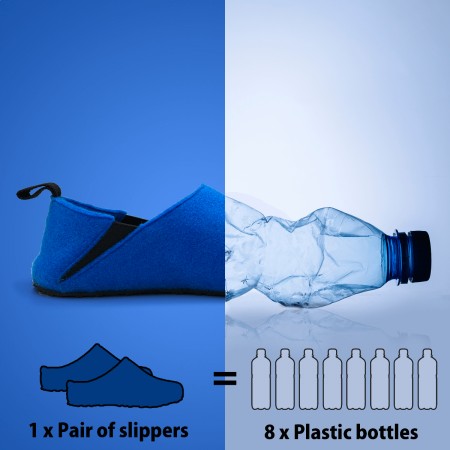 Helps Combat a Variety of Foot and Non-foot Related Conditions
Most people leave it until they experience foot pain to invest in the right pair of supportive slippers but prevention is always better than cure when it comes to your health. As the Zullaz slippers are professionally designed by industry-leading podiatrists and physiotherapists, they aid in not only reducing discomfort in your foot but could also prevent more serious foot conditions like plantar fasciitis, arthritis and Achilles tendinitis.
Besides, due to the connection between the feet and the lower body, these slippers could also lessen pain in your ankles, knees, hips and lower back. However, if the problem persists or worsens, then we'd recommend you consult your doctor for a detailed analysis.
Is There Anything Else That Can Help Me?
In addition to your Zullaz slippers, if you're lacking cushion and comfort in your shoes or trainers, we also sell a range of shoe insoles that are suitable for every foot shape, condition, use and budget.
Your safety and comfort are our number one priority so if you have any questions before you make your purchase, then please contact our friendly customer services advisors who will be happy to assist. We would also love to hear your thoughts or feedback on Facebook and Twitter.
We are here to make your life better so that you can enjoy your days the way you deserve, pain-free.