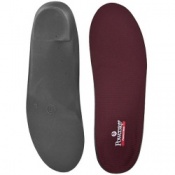 Stabilising heel cup and platform

Hypurcel foam for plush cushioning

Micro thin, mildly angled heel platform

Relief and prevention for over pronators
---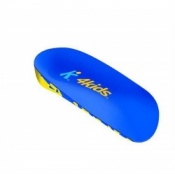 Heel cupping for stability;
Medial arch support;
Shock absorbing
Specially designed for children.
---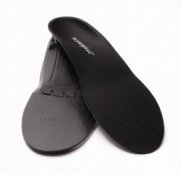 Ideal for extra sensitive feet and those with difficulty wearing orthotic devices
Patented heel cup provides optimum support for the foot and lower body
agION technology keeps insoles clean and fresh
Easily trimmed to your size for a personal fit
---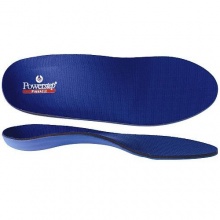 Powerstep insoles for medical-grade foot support and stability
Helps to eliminate pain in the heel, ankles, knee and lower back
Suitable for sportspeople, workers, elderly and more
Provides a solution to prolonged foot pain
---
Strong pair of insoles featuring medical-grade support
Deep heel cradle supports collapsed or weak arches
Double layer and low profile casing ensures long lasting support
Friction reducing top fabric enhances comfort
---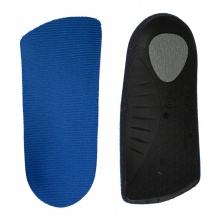 Strong, medical-grade support;

Ultra slim design;

3/4 length allowing for variety of shoes;

Friction reducing top fabric.
---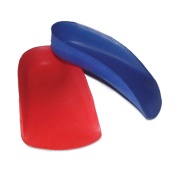 Brightly coloured and functional
Medium density EVA
Flast base or pre-posted 5 degree heel
Available in a range of sizes
---
Combines biomechanical pronation control with unrivalled impact protection
The professional's choice of insole for preventing foot and leg discomfort
Features a heel cup and stabilising arch that both help cradle your feet
Ensures that feet are correctly supported, aligned and cushioned
---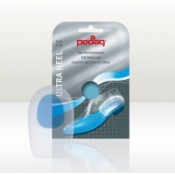 Ultra soft gel heel cup
Relieves symptoms of heel spurs
Two shock absorbent zones
Reusable and washable
---
Targeted Sorbothane protection with moulded heel cups and arch support
Ideal for any activity where the forefoot and heel are subject to the most impact
Suitable for all sports, hiking, walking, leisure activities and everyday use
In-built arch support prevents and alleviates arch pain and fallen arches
---
Forefoot cushioning
Wider heel cup for increased support
Hard wearing
Shock absorption
---
Ideal for activities where the heel is subject to the most impact
Helps prevent and alleviate arch pain and fallen arches
Features a moulded heel cup and integral arch support
Has an antibacterial, anti-odour top sheet
---
Pair of EVA insoles with a rigid nylon base

Ideal for heavier patients after additional heel support

Enhanced support throughout the arch when walking

Quick dry, moisture absorbing material
---
Reinforced EVA insole with stabiliser.

Ideal for day to day use and sports.

Features a deep heel cup.

Longditudinal arch provides increased support.
---
Slimflex Low Density Full Length Insoles
Customisable
Heat mouldable for comfort
Increased general control
---
Pair of Slimflex Simple Full Length Insoles
Highly supportive design is ideal for use in any shoe
Heat mouldable for comfort and tailored fit
Increased general control for day-in-day-out use
---
Full-length high-density insoles
Provides extra support to your arches
For heavier and harder-wearing use
Increased general control for ease of use
---
Suitable for a range of conditions
Customisable for a greater level of fit and comfort
Heat mouldable for anatomical support
Increased general control of foot
---
Slimflex Simple 3/4 Length Insoles
Customisable
Heat mouldable for comfort
Increased general control
---
Slimflex Simple High Density 3/4 Length Insoles
High density version for extra support
For heavier patients and harder wearing patients
Navy blue insoles offer increased general control
---
Pair of Slimflex Insoles with a moulded EVA insole
Strengthened arch and heel cup with breathable under layer
Hard wearing top cover protects and enhances shelf life
Can be used with wedges and posting inserts
---
Uses nano silver antibacterial technology
Provides effective support and comfort
Effective with every stride you take
Suitable for a wide range of shoes
---
Provides pure shock absorption at the heel
Ideal for light sport and everyday use
Easy to fit in all types of footwear
Provides firm support and comfort
---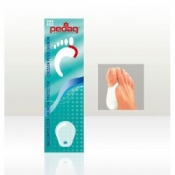 Alleviates pain in balls of feet;
For comfortable walking;
Ideal for bunions;
Flexible & tear resistant.
---
Slimflex EVA Moulded Insoles
Add componants for a bespoke fit
Provides additional cushioning and support
Fast and effective solution