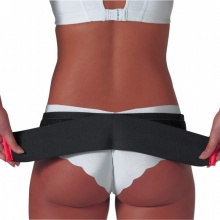 Offers stabilisation of the sacrum alongside added pelvic support
Helps to re-establish the natural movement of the sacroiliac joint
Belt provides gentle and flexible support to the sacroiliac joints
Ideal for stabilising the hips, pelvis and spine to relieve pain
---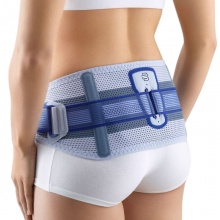 Back support to stabilise and relieve pressure in the lower back
Cushion pad massages joints to stimulate circulation for healing
Suitable for wearing under clothing with its anatomical design
Easy to fasten with practical finger pockets for reduced exertion
---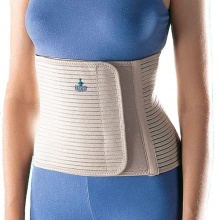 Abdominal binder that relieves strain on joints, ligaments, and muscles
Ideal for use as a post-operative binder or postpartum belly wrap
Elastic panel provides even support and prevents rollover
Designed to provide a contour fit at the waist and hips
---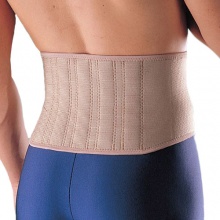 Offers therapeutic treatment to muscles to reduce sports-related injuries
Made with 25 magnets sewn in back of support to stimulate circulation
Combines the therapeutic warmth of neoprene with magnet therapy
Supports the lower back and eliminates excess water weight
---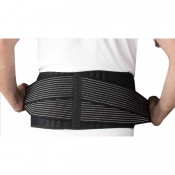 Magnetic compression belt for relief from back pain
Reduces pain and increases blood flow to facilitate healing
Support stays provide support to back muscles
Discreet and suitable for use on the go
---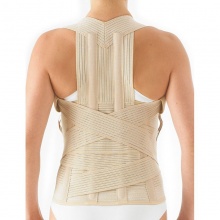 Dorsolumbar support for reducing kyphosis by aiding spinal alignment
Can be used as a pre/post-operative rehabilitation aid or for general support
Helps to correct rounded or slumped shoulders and poor posture
Made of comfortable material that fits discreetly under clothes
---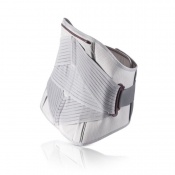 Microfibre material provides comfort and keeps skin dry
Provides full support to the lumbar vertebral column
Anatomical fit allows discreet wear under clothes
Adjustable pressure to meet own preference
---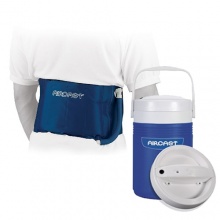 Includes the Back Cryo Cuff and Automatic IC Cooler
Cooler provides up to eight hours of cryotherapy
Ideal for helping you get back on your feet
Helps minimise swelling and reduce pain
---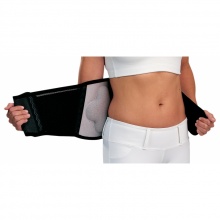 Lower back support to help protect against back injuries
Ideal for lower back sprains, strains, acute and chronic pain
Designed with silicone strips for a comfortable fit
Support may be worn under or over clothing
---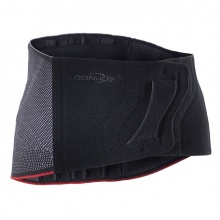 Features two flexible abdominal stays for an improved fit
Made from multi-directional elastic fabric for comfort
Includes a hot or cold pack for pain relief
Perfect for chronic lower back pain
---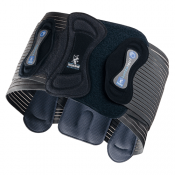 Can be worn all day long thanks to Combitex and Coolmax fabrics
Precise targeting of pain is achieved with adjustable strap
Recommended for low back pain affecting lumbar region
Premium lumbar belt adapts to all body shapes
---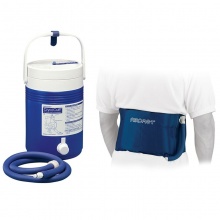 Includes the Back Cryo Cuff and Cryo Cooler Unit
Helps reduce discomfort and swelling in the area
Designed using a simple, gravity-fed system
Provides cold therapy and compression
---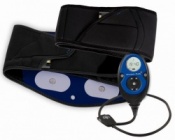 Aids back and abdominal muscle rehabilitation;
Comfortable, low profile garments;
NMES & TENS electrical stimulation;
Relieves pain & strengthens muscles.
---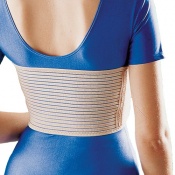 Hook-and-loop closure improves ease of application
Ideal for rib fractures, chest pain and muscle strain
Made from a combination of elastic and soft nylon
Evenly distributes pressure for comfort
---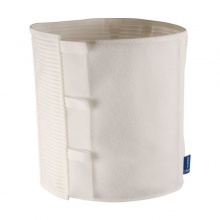 Thoracic or abdominal support belt
Ideal for relief from mild backache
Can be worn next to the skin all day
Featuring removable support reinforcements
---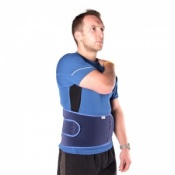 For back Pain where warmth, compression and stabilization is required.
66fit Elite air flow material provides air circulation and comfort
Metal Stays and twin pulls make this support fully adjustable
Excellent for everyday use, manual work, activities and sports.
---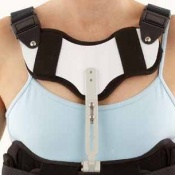 Additional sternal extension
For OrthoLux OLSO Soft Spinal System
Fits regular and short lengths
Provides extra support
--- Back support designed for male wearers
Lumbar pad for extra support
Double strapping for constant compression
Lightweight wear for less obstruction
---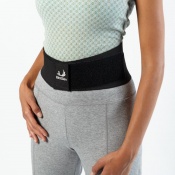 Back support designed for female wearers
Lumbar pad for extra support
Double strapping for constant compression
Lightweight wear for less obstruction
---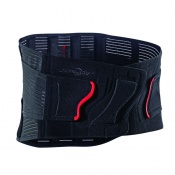 Ideal for heavy-duty tasks or sporting activities
Designed to compress and stabilise your back
Perfect for acute or chronic lower back pain
Helps improve and correct your posture
---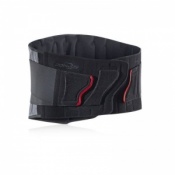 Lumbar support for acute, subacute or chronic lower back pain
Suitable for sciatica, herniated discs and post-operative use
Designed with straps and finger pockets for ease of use
Features inflatable back support to absorb shock
---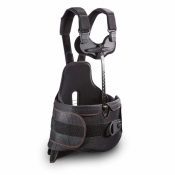 Ideal for post-operative and post-traumatic conditions
Unique and innovative back brace restricts motion
Helps speed up the healing process during use
Features a pulley system for easy adjustments
---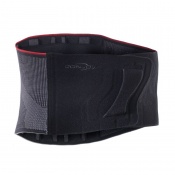 Features two flexible abdominal stays for an improved fit
Designed specifically for the male anatomy
Includes a hot or cold pack for pain relief
Perfect for chronic lower back pain
---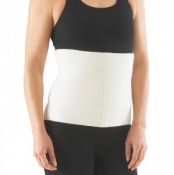 Comfortable back warmer for mild support of aches, pains and stiffness
Soft Angora and wool fabric helps warm muscles and joints
Breathable and flexible, for great comfort and wearability
Can help with strains, sprains, arthritis and more
---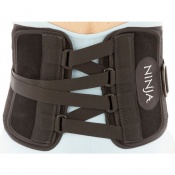 Easy to secure – just one strap pull
MRI compatible for versatile use
Utilises 6 x mechanical advantage for increased support
Suitable for chronic back pain, fractures and more
---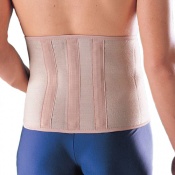 Retains body heat for constant heat on the muscles
Maximises support without restricting movement
Crafted with three pliable stays for extra support
Designed in a universal size for most users
---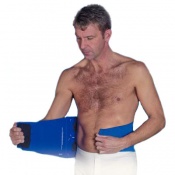 Belt to provide pain relief to the lower back
For use with a TENS machine for electrotherapy
Easy to apply and remove without assistance
Ideal for home use for individual treatment
---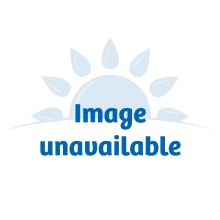 Electrodes for PALS Back Belt
Pack of four ideal as spare or replacements
Helps provide effective pain relief at home
For use with a TENS machine for electrotherapy
--- Posterior minnie extension
For OrthoLux OLSO Soft Spinal System
Fits regular and short lengths
Provides extra support
---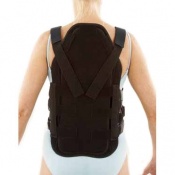 Posterior yoke extension
For OrthoLux OLSO Soft Spinal System
Fits regular and short lengths
Provides extra support
---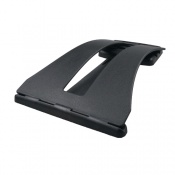 Adjustable back stretcher
Relieves chronic back pain
Improves posture and flexibility
Ideal for use on the go
---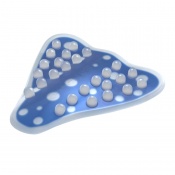 Features massage nodules to relieve discomfort
Excellent as a spare or replacement pad
Designed to massage the lower back
Relieves pain and tension in the area
---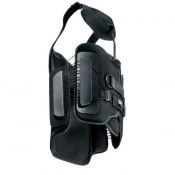 Posture increases lumbar lordosis and resists painful spine movements
Restricts forward flexion and encourages hyperextension posture
Provides full-circumferential rigid support and compression
Unique prefabricated orthosis for a range of pathologies
---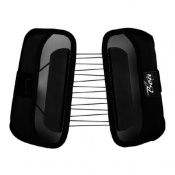 Uses mechanical advantage pulley systems and medical-grade plastics
Semi-rigid support combines new technology with traditional design
Simple hook-and-loop closure for ease of application
Support is low profile for anterior-posterior control
---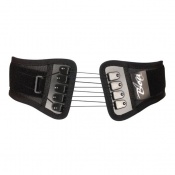 Combines traditional brace design with innovative features
Semi-rigid support compresses and stabilises the joint
Available in three different sizes to fit most users
Ultra low-profile support for the sacroiliac joint
---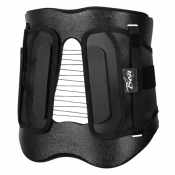 Can be changed to the BOA Low-Profile Brace once you've healed
Easy-to-use pull handle allows you to quickly adjust the brace
Breathable fabric with outer mesh allows heat to escape
Simple hook-and-loop closure for ease of application
---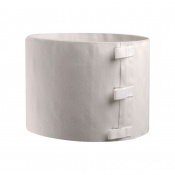 Velcro closure allows you to adjust support
Available in four different sizes to fit you
Thoracic bandage for fractured ribs
High support from elastic fabric
---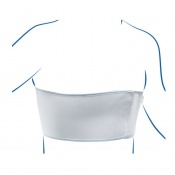 Ideal for fractured ribs or post-surgical support
Resistant elastic fabric for thoracic support
Adjustable as a result of its layered design
Available in four different sizes for you
---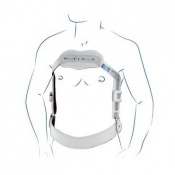 Back pad positions horizontally or vertically depending on your needs
Lightweight telescoping aluminium alloy frame for improved fit
Effortless application and tightening for enhanced compliance
Rigid support to prevent and alleviate hyperextension injuries
---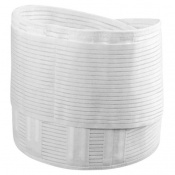 Flexible support as a result of its flexible posterior reinforcement
Comfortable belt can be worn next to skin all day long
Functional muscular stimulation at the rear
Reinforced lumbar-abdominal support belt
---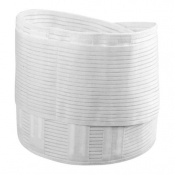 Flexible posterior reinforcement for improved flexibility
Provides functional muscular simulation at the rear
Supports both the lumbar and abdominal region
Can be worn next to skin all day long
---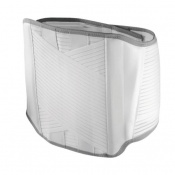 Clinically proven lumbar belt offers reinforced support
Functional muscular stimulation at the rear
Can be worn next to your skin all day long
Anatomical cut to free up hips and ribs
---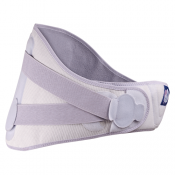 Bands make belt adjustable to the stage of pregnancy
Bamboo fibre lining provides high level of comfort
Premium maternity belt for pregnant women
Ideal for low back, pelvic and sacroiliac pain
---
Evenly distributes pressure around the spine and reduces pressure on abdomen
Uses an advanced, pulley-like system to provide strong compression
Premium back support adjusts with precision throughout the day
Uses a quick lacing system for easy application and removal
---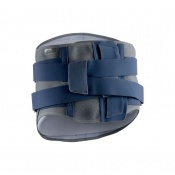 Has a removable rigid dorsal corset for improved immobilisation
Rear-front-related straps allow you to easily adjust tightness
Uses highly elastic Lombax fabric to provide compression
Dorsal-lumbar support has a rear height of 35cm
---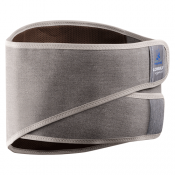 Easy to adjust, making it perfect for performing activities
Ideal for reducing lower back pain and discomfort
Components are dirt resistant and elastic
Four stays for improved lumbar support
---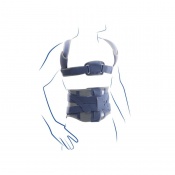 Has sub-axillary cushioning for improved comfort
Back support section adapts to spinal curve
Effective adjustment to your morphology
Posture-correcting dorsal-lumbar corset
---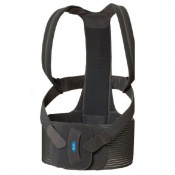 Osteoporosis brace relieves and correct the lumbar/thoracic spine
Fits your shape perfectly with its adjustable, conforming design
Adjustable back straightener can be adapted to your lordosis
Additional adjustable straps can be cut down to size
---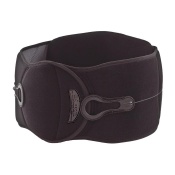 Low-profile sagittal (anterior-posterior) control lumbar orthosis
Provides compression and relief to your lower back pain
Provides mild stretch relief at the ribs and the hips
One universal, adjustable size to fit most users
---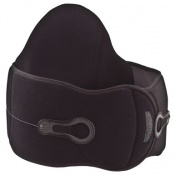 Provides maximum compression where you need it most
Enhanced-profile sagittal control lumbar-sacral orthosis
Remains comfortable when you're sitting and standing
Wings can be angled for maximum user comfort
---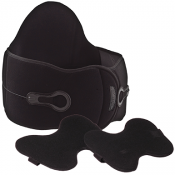 Fits the vast majority of patients with a single size
Has rigid side panels to increase lateral support
Ideal for those requiring additional stabilisation
Elegant in design with comfortable support
---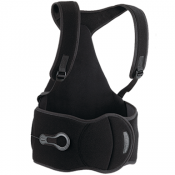 Provides kinaesthetic reminder to use your muscles to extend spine
Well-padded shoulder straps make donning and doffing a cinch
TLSO Back Brace helps with a range of different conditions
Uses high-quality, lightweight and breathable materials
---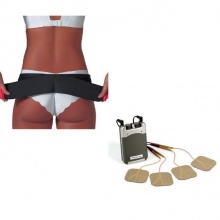 Lumbar support saver pack for pain relief and improved posture
TENS 200 Plus tackles the pain directly after work or before bed
Harley Belt can be used outside of the house to stabilise and reduce pressure
Use together to provide lumbar support and lumbar pain relief
---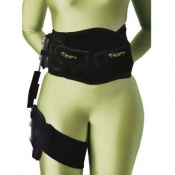 Features a cable pulley system for extra lumbar support
Ergonomic arthritic grip can be customised to your size
Ideal for pre- and post-operative support of the hip
Breathable fabric wicks away perspiration quickly
---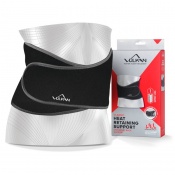 Provides light compression, support and therapeutic heat retention
Helps relieve symptoms of sprains, strains, arthritis and muscle pain
Triple-layer construction combines the benefits of heat retention and air flow
Supplied in a universal size that should fit most users