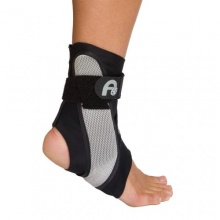 Prevents rollover and ankle sprains with a plastic stabiliser
Designed for professional and amateur athletes alike
Comfortable to wear in almost any trainer or shoe
Quick and easy to put on with a secure single strap
---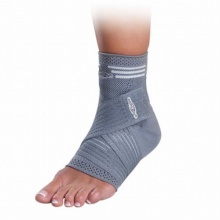 Suitable for ankle injury and instability
Supports and compresses the ankle
Ideal for preventative use in sports
Fits either the left or right ankle
---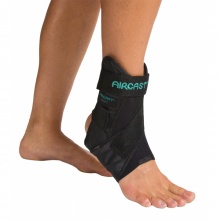 Cushions the ankle and reduces pain while you're recovering
For support when you're almost ready to begin exercising again
Assists with rehabilitation for functional recovery
Quick and easy to apply with no measurements required
---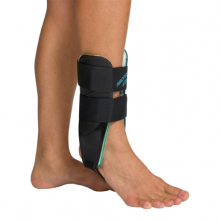 Reduces swelling and pain following an ankle sprains
For acute ankle injury, post-operative use, and chronic instability
Assists with rehabilitation for functional recovery
Quick and easy to apply with no measurements required
---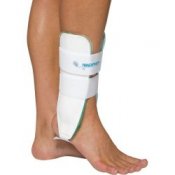 Semi-rigid shells to protect ankle from inversion and eversion
Anatomically designed to ensure you get a comfortable fit
Pre-inflated air cells mean the brace is ready to wear
Streamlined fit so it can easily fit into your shoe
---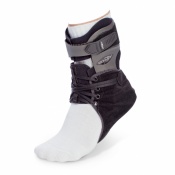 Low-profile and lightweight support for added comfort
Features rigid uprights to protect ankle during impact
Prevents abnormal inversion/eversion and rotation
Compresses the tibia and fibula for added stability
---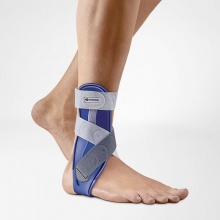 Stabilising ankle brace suitable for use after ankle injury or surgery
Ideal for twisting injuries, torn ligaments and capsular ligament strains
Provides support and prevents lateral twisting without complete restriction
Comfortable design fits in most shoes for everyday wear
---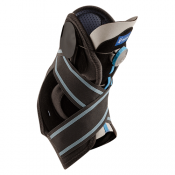 Fabric is treated to prevent bacteria in area
Fast, easy and reliable tightening system
Resistant and comfortable metallic splint
Lightweight and comfortable 3D knit
---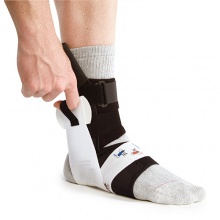 Ankle support for conditions that range from sprains to arthritis
Works by controlling the motion of the forefoot for correct positioning
Suitable for use with socks, shoes and while playing sports
Designed to work as an extra ligament to improve foot and ankle problems
---
Soft, neoprene blend;
Provides firm, even support;

Promotes healing;
Great flexibility.
---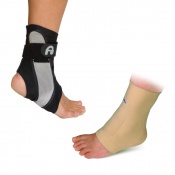 Comfort pack includes Aircast A60 and Silipos gel sleeve to protect the ankle bone
Protect your ankles from rollover and sprains with this incredible support
Trusted by sports stars including tennis player Andy Murray
Light-weight anatomic design easily fits into athletic footwear without any bulk
---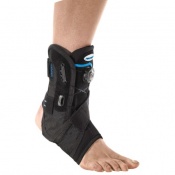 Anatomical in shape to provide tailored support
ATOP lacing system for uniform compression
Helps prevent further injury and discomfort
Compresses and supports your ankle
---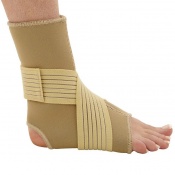 Prevents over-inversion or plantarflexion
Increases circulation to aid recovery
Integral strap for increased support
Suitable for ankle pain and sprains
---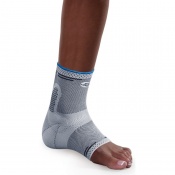 Suitable for post operative and post injury
Allows ankle flexion for added comfort
Helps compress and stabilise the area
Ideal for a wide range of conditions
---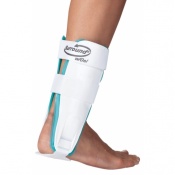 Ideal for acute-to-active phases of ankle recovery
Helps prevent inversion and eversion of the ankle
Features an air and gel bladder for cold therapy
Designed to treat tender or swollen ankles
---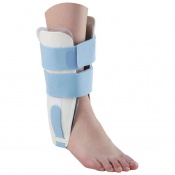 Removable double-welded air/gel pads
May be heated or cooled for hot or cold therapy
Streamlined design aids fit in shoes for protected weight-bearing
Universal stirrup shape fits left or right foot
---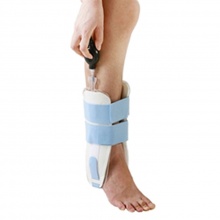 Anatomically-contoured shells with inflatable air cushion for compressive support
Rigid thermoplastic stirrups prevent inversion/eversion of the ankle
Double-welded pneumatic pre-inflated air bags with one-way valve
Supplied with inflation tube to inflate bags to desired pressure
---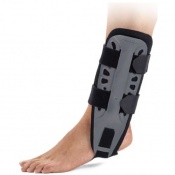 Uses breathable, antibacterial material for added hygiene
Compression can be adjusted according to your needs
Open-frame design to lighten the support structure
Anatomical shape contours to your ankle bone
---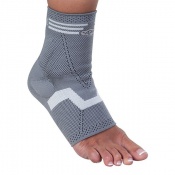 Supports and compresses your ankle to reduce swelling
Elastic in multiple directions for an anatomical fit
Includes malleolar inserts for additional comfort
Made from breathable yarn for extended use
---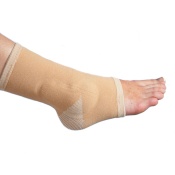 Suitable for ankle strains & sprains;

Pull on sleeve;

Includes gel pad;

Universal left/right application.
---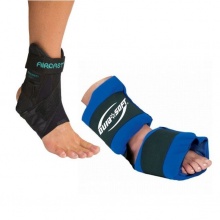 Ankle brace and ice pack wrap for quick ankle recovery
Designed for amateur and professional sports players
Brace can be worn during sports while protecting and supporting the ankle
Apply the ice pack afterwards to ease any pain and inflammation
---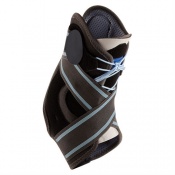 Additional straps and metallic splint provide stabilisation
Low profile allows brace to be worn in any type of shoe
Traditional lacing system ensures precise tightening
Premium Ankle Brace offers a high level of support
---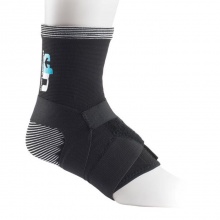 Firm, even support;
Natural range of movement;

Edge trim technology;
Lightweight.
---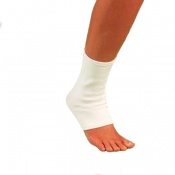 Elasticated ankle support for optimal support and comfort
Ideal for small amounts of swelling and discomfort following sprains
Two-way stretch material provides effective compression
Available in a choice of sizes for a more accurate fit
---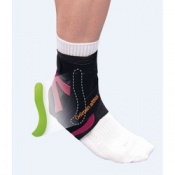 Adjustable fit;
Supporting stays;
Controls eversion and inversion;
Stabilising biomechanical control.
---
Stabilising ankle brace and ankle ice wrap saver pack
Ideal for recovering after surgery or severe ligament injuries
Brace provides support and prevents lateral twisting
Ice wrap conforms to the ankle to reduce pain and inflammation
---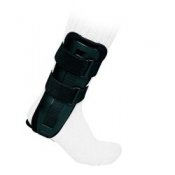 Provides uniform compression and a customisable fit
Stabilises the ankle while you get back on your feet
Minimises ankle rotation to prevent discomfort
Features a Floam bladder for extra comfort
---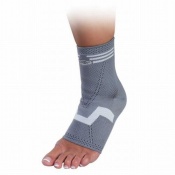 Ideal for the treatment and prevention of a range of conditions
Provides gradual compression so you can walk naturally
Designed with breathable material for added comfort
Highly elastic in multiple directions for a better fit
---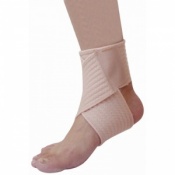 Universal size
Supports and stabilises
Easy to apply
Contour adjustment allows for a comfortable fit
---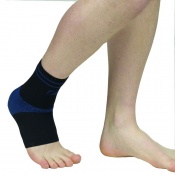 Three-dimensional flat knit technology for even compression and a contoured fit
Viscoelastic gel pads provide intermittent massage to stimulate circulation
Ideal for sprains, tendomyopathies and ligament weakness
Available in five sizes
---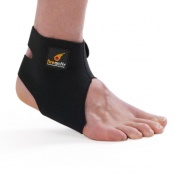 Relieves pain;

Gives support;
Provides stability;

Offers heat therapy.
---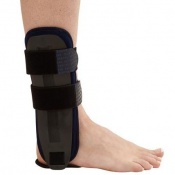 Suitable for strans, sprains and instabilty
Medial and lateral supports allow normal dorsiflexion
Padded foam cushion improves comfort
Fits left and right legs for maximum versatility
---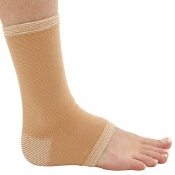 Four way stretch material for better support
Anatomically designed for better fit
Support and compression to joints and muscles
Suitable for minor sprains and ankle pain
---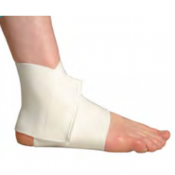 Figure-eight style support to help reduce ankle pain
Elastic support can be applied easily for immediate use
Adjustable tension for optimal support and benefit
Single-patient use for improved hygiene
---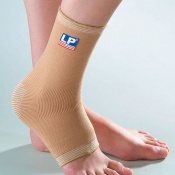 Provides support and compression to weak or injured ankles
Emits far infrared rays that provide heat deep below the skin
Helps to improve blood circulation and range of motion
Stimulates the healing process and decreases recovery time
---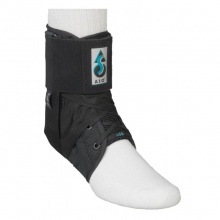 Breathable ankle support suitable for sports
Provides ankle stability to prevent ankle injury
Lace enclosure provides support and allows easy application
Suitable for either the left or the right foot
---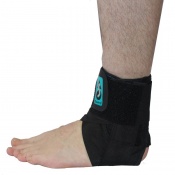 Low-profile design fits easily into most shoe styles
Stirrup straps stabilise hindfoot
Figure of eight stabilising straps to protect and support ankle ligaments
Dynamic cuff to further stabilise ankle
---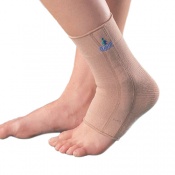 Reduces swelling;
Comfortable to wear;
Permanent magnets;
Comes in different sizes.
---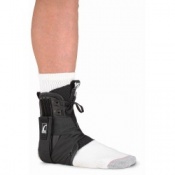 Hybrid of a solid stirrup and soft support
Optional figure 8 lacing system
Offers 20%-35% more support than traditional stirrup supports
Suitable for ankle sprain, tendonitis and more
---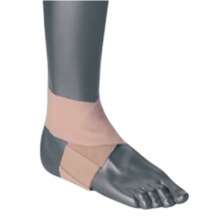 Wrap around provides light support

Ideal for sprained or swollen ankle

Fits easily into shoe

Can be used during light activities
---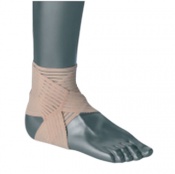 Ideal ankle sprain or instability

Can be used for all kinds of activities

Fits easily into the shoe

Good support, reduces swelling.
---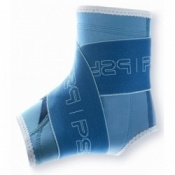 Designed to help prevent ankle injuries
Fits well in sports shoes and combines with shin pads
No movement restriction for an optimal sports experience
Offers support to ankle instability
---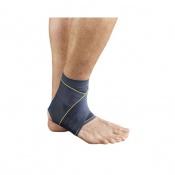 Brace for supporting slightly sprained ankles
Prevents recurring ankle injury or instability
Figure-of-eight strap for firm and comfortable compression
Available in a choice of sizes to ensure the most accurate fit
---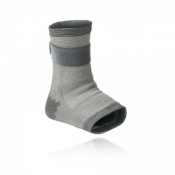 Anatomical ankle support

Stabilises and provides pain relief

Soft and breathable for comfortable use

Available in 3 sizes
---
Neoprene support for minor ankle injuries

Fits in shoes – great for everyday use

Increases blood flow and reduces stiffness

Available in 5 different sizes
---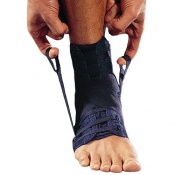 Figure of 8 strapping;
100% breathable cotton;
Ideal for sprains & instabilities;
Controls inversion/eversion of ankle.
---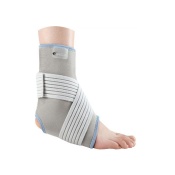 Uniform compression;
Therapeutic warmth;
Spiral metal stays;
Elastic straps.
---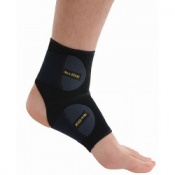 Self moulding sock;
Ideal for use during sports;
Ideal during advanced rehabilitation;
Prevents excessive pronation/supination.
---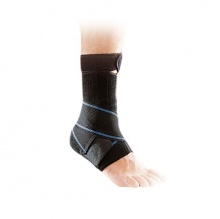 Has an anti-slip system so you get the support you need
Has double crossover straps for improved support
Provides excellent support for your ankle
Thin design retains movement of ankle
---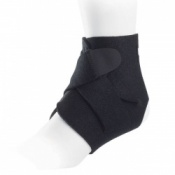 Soft, neoprene blend;
Provides firm, even support;

Promotes healing & flexibility;
Advanced strapping system.
---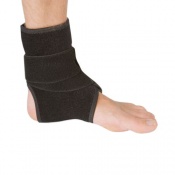 Variable compression;
Breathable;
Slim profile;
Optional cold disc.
---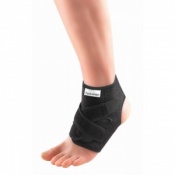 Provides pain relief for weak and injured ankles
Helps to retain heat to encourage more efficient healing
Improves comfort with ventilation and adjustable straps
Triple-layer materials to provide maximum support
---
Offers silicon support around the key area of the muscle and joint.

Provides protection, compression and support.

Use following injury or during sport.

Available in three sizes.
---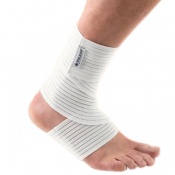 Ankle wrap for injuries, minor pain, stiffness, and bruising
Provides support to the ankle during healing
Firm support can help soothe pain after injury
One size fits most for increased convenience
---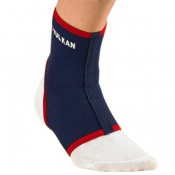 Universal design suitable for either the right or left ankle
Provides support and compression for optimal benefit
Relieves swelling to help reduce pain from injury
Vulkan Aerotherm System provides heat retention and air flow